"Stop Buying Logo Stuff - Start Buying Logo Merchandise Solutions"
Are you tired of buying "stuff?"
We work to be an innovative promotional company by providing logo merchandise solutions (i.e. "Fresh Thinking") instead of "stuff." The right solution can enhance sales and marketing efforts, add just the right touch to a new product launch, motivate employees internally or externally, raise Brand awareness and help deliver a return on investment dollars. Our ultimate goal is to make promotional products part of your coordinated marketing plans and not just "stuff" filling a budget line item.
Put our knowledge about promotional products to work for you. With high quality promotional products, fast delivery times, and prices to fit all budgets, we will provide customized, relevant recommendations for you. Simply take a look around or contact us now and we'll do the shopping for you!
Featured Item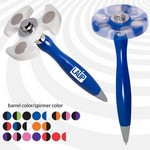 Spinner Pen
Retractable ABS plastic pen with toy fidget spinner topper. Patent pending. 5.75" L x 2" W x 2" H
$2.49 - $2.99
Signature Showrooms